Hi Everyone,
Today is the last day of February and also Mardi Gras, the annual parade and celebration in New Orleans, Louisiana.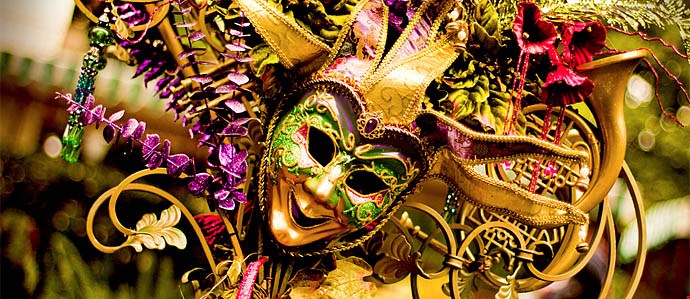 Mardi Gras means "Fat Tuesday", which is the day before the celebration of Lent. There are special foods, like the king cake, and special costumes are worn in the parade and balls at many krewes (or clubs) around New Orleans. There is also lots of music and walking bands all around New Orleans today. Take a look at this video which shows some of the history and traditions about Mardi Gras.
Today's conversation was about "Your Voice". We use our voices to communicate and make lots of different sounds. Something we communicate are stories, so we use the narrative verb tenses, past simple and past continuous.Here is the quick practice we did of these two verb tenses.
Ok, now let's get to our topic – Your Voice.  The human voice is various sounds made with our vocal cords and lungs. We all have various "tones" of our voices from low to high and everything in between. These "tones" can elicit  emotions and feelings. But, most importantly, your voice is your identity. (anytime you call a friend or family, you just say "Hi. It's me" and everyone recognizes your voice).
We then discussed the expression "find your own voice" – which basically means to have your own opinion and be willing to express it : to have the courage to speak up. Here are 9 quotes about finding your voice that we discussed together. One particular quote was from the movie Dead Poets Society, where the teacher, played by the late Robin Williams, encourages his students to find their own voice , and find it sooner rather than later – watch it here:
We discussed how to find your voice, and how sometimes it can be difficult. We watched this video  by Allsion Shapira, who describes how she found her voice with her guitar.
At the end Allison says that finding your voice is not the ending, it is the beginning.
Lastly, we talked about voices and what we think of different types of voices. Do women have to try harder in the professional world to make their voices different to appear confident and in charge? Is their a difference between male and female voices? Why? Take a look at this video that discusses the issues that women from NPR face:
After watching we talked about the issues raised here by these women, and certain cultural issues that women in other countries face with "finding their voice" and being heard.
Thanks everyone for contributing to today's conversation! See you next week!